When you paint plant pots, you can use almost any paint, but acrylic or emulsion paints may work the best. You could use paint brushes, but also other items to create different patterns on the pots, for example sponges, cotton buds, dotting tools.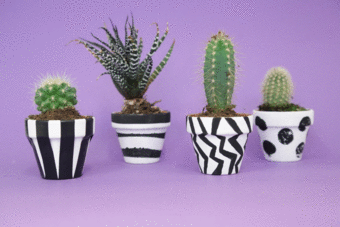 If you want to create straight lines, use some masking tape to mark out where you do not want the paint to go.
If you don't have any plant pots, use some clean glass jars. If the paint doesn't stick properly to the glass, use chalk paint or mix your paint with some PVA glue.